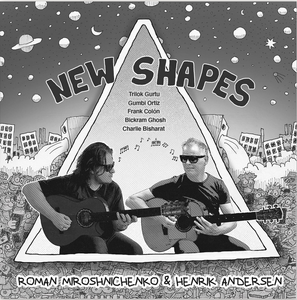 NEW GUITAR ALBUM - "NEW SHAPES"
Prominent guitar virtuosos Roman Miroshnichenko and Henrik Andersen to release new joint album «New Shapes» they recorded latest spring in duo and joined by special guests: Grammy-winning violinist Charlie Bisharat and best percussionists in the world: Trilok Gurtu (John Mclaughlin), Bickram Ghosh (George Harrison), Frank Colon (Manhattan Transfer), Gumbi Ortiz (Al Di Meola).
BUY HERE :$15  Throughout incredible acoustic gutar music album, the duo demonstrate their fantastic instrumental skills, musicality and deep knowledge of jazz-fusion, flamenco, latin. This is unique mix of nylon and steel string guitars, Indian tablas and konnakol, Brazilian samba, Russian folk and Mediterranean rhythms, emotional musicianship, setting the new musical genre — Acoustic Neofusion. 

"As Henrik was part of my band I'm happy I recognized his multitalent. Now I see the progress in him and of course with such a great partner like Roman to enhance the music for younger generation. I hope the music fraternity encourages these two upcoming musicians and supports them." — Trilok Gurtu kindly noted.
---